De quoi ça parle ?
Deux amis perdus dans une zone désertique tentent de retrouver leur chemin. Le découragement, la déshydratation et la fatigue mettent à l'épreuve le lien qui les unit…
Une expérience immersive !
Préparez-vous à une expérience unique en son genre avec Gerry de Gus van Sant. Ce long métrage réalisé il y a 20 ans ressort dans une copie restaurée ce mercredi. Précédé d'une très belle réputation, film plébiscité par la critique, comment expliquer que Gerry soit tant célébré 20 ans plus tard ? 
Gerry est un film que l'on pourrait qualifier d'immersif, bien plus "minimaliste" dans son budget que d'autres films de son réalisateur (comme Will Hunting, son plus grand succès en France). Gerry est un film dont les plans s'étirent, laissant la part belle au silence et à la beauté des paysages magnifiquement filmés par le chef opérateur, Harris Savides. 
Peu de dialogues, de longs plans, une intrigue ténue… Vous redoutez que cela évoque de l'ennui ? Détrompez-vous ! Gerry doit être abordé comme une expérience de cinéma, comme on se laisserait embarquer dans un songe ou une forme de rêve éveillé. Lorsqu'on voyage par exemple, on se laisse tous aller à ces moments où l'on plonge son regard dans le paysage en se laissant porter par ses pensées. Gerry se rapproche de cette expérience. Admirer la beauté de la nature et savourer l'instant.
"Nous avions quelques scènes sur le papier mais Gus [van Sant] laissait systématiquement tourner la caméra pour les étirer. Au début, j'avais du mal à comprendre pourquoi. Nous avons longuement parlé de cette idée des plans qui ne s'arrêtent jamais. Cette croyance que, si on laisse la caméra tourner, une fois que le public fait fi de son impatience, de sa frustration, quelque chose survient de vraiment profond. C'est comme cela que Gus voyait son film", a expliqué Matt Damon, l'un des acteurs aux côtés de Casey Affleck.
Et si l'intrigue n'est pas bavarde ou riche en rebondissements, cela n'empêche pas le film de tenir en haleine, grâce au mystère qui plane sur ce duo formé de Matt Damon et Casey Affleck. "On ne voulait pas que le public comprenne systématiquement ce qu'ils disent. Une des tragédies de l'arrivée du son au cinéma est que les dialogues se taillent la part du lion. Dans Gerry, les dialogues sont réellement liés aux protagonistes, pas à l'histoire", avait indiqué Gus van Sant pour expliquer son geste.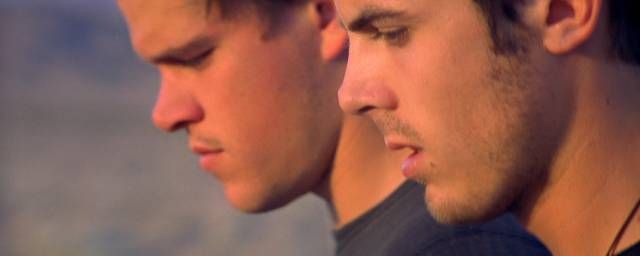 On peut voir aussi Gerry comme une déclaration d'amour à ses acteurs. Ce projet dépasse en effet la collaboration professionnelle, et laisse la part belle à une forme d'amitié professionnelle. "[Gus van Sant] aime [les acteurs] au point de laisser un film devenir autre chose pour satisfaire leur désir, écrivent Stéphane Bouquet et Jean Marc Lalanne dans le livre qu'ils ont consacré au cinéaste, sorti en 2009 aux éditions Cahiers du cinéma. Cet amour-là, étrangement, n'est pas du tout nocif à la puissance esthétique des œuvres : c'est même la force de ce cinéma singulier que de renverser la tendance : non pas soumettre les acteurs aux intérêts du film, mais soumettre le film à l'existence des acteurs. "Laisse les garçons jouer" pourrait être la devise et la méthode de GVS", clament-ils.
Un film sous influences…
Gerry est également connu auprès des cinéphiles pour les références qui ont influencé son réalisateur. Gus van Sant évoque de nombreuses influences dans la note d'intention accompagnant cette ressortie : "Je pensais à des films et à des cinéastes dont je me souvenais. James Benning, par exemple, et l'un de ses films, The United States of America, où il traverse le pays en voiture. Dans ceux de Warhol, mais de façon différente, on trouve aussi le cas de caméras tournant de longues séquences. Je ne pense pas qu'il m'ait beaucoup influencé mais il y a indéniablement un lien. Andreï Tarkovski m'a influencé tout comme Alexandre Sokourov, Chantal Akerman avec Jeanne Dielman, Fassbinder, Derek Jarman avec son film Blue, Béla Tarr mais aussi Abbas Kiarostami et Jacques Tati."
Gus van Sant ajoute : "Aux États-Unis, les films doivent être des feux d'artifice qui "bousculent" le spectateur sans trop lui laisser le temps de réfléchir. Ces réalisateurs-là, eux, vous font réfléchir. On a dû m'ensorceler… et j'ai été possédé par le désir de travailler de cette façon."
… qui a ensuite influencé Daft Punk !
A son tour, Gerry a ensuite influencé. Les Daft Punk font écho à ce film dans la vidéo vue plus de 28 millions de fois dans le monde, leur "épilogue", annonçant la fin du groupe le 22 février 2021. Précisons que cette vidéo est extrait d'un long métrage qu'ils ont sorti en 2006, Daft Punk's Electroma.
Seul long métrage réalisé par Guy-Manuel de Homem-Christo et Thomas Bangalter, Electroma a été présenté à Cannes en 2006, dans le cadre de la Quinzaine des Réalisateurs. Tous deux en jouent également les rôles principaux, des robots cherchant à devenir humains.
https://www.youtube.com/watch?v=DuDX6wNfjqc
Gerry a également inspiré une scène du film suivant de Gus van Sant, Elephant (une scène dans laquelle les protagonistes jouent à un jeu vidéo ressemblant à Doom). Si ce dernier est sorti avant Gerry en France, il faut savoir que son tournage est antérieur. Gerry a été tourné en 2001, et était sorti de façon très confidentielle aux Etats-Unis, en février 2002. C'est grâce au triomphe d'Elephant, Palme d'Or 2003, que Gerry a trouvé un distributeur en France et a pu y sortir ensuite officiellement. 
Elephant a bientôt 20 ans : 5 choses à savoir sur la Palme d'Or de Gus Van Sant
Gerry, Elephant, puis Last Days constitueront ensuite une "tétralogie" ou "trilogie de la mort". Last Days, porté par Michael Pitt, raconte les derniers jours de Kurt Cobain, le chanteur de Nirvana.
Gerry ressort au cinéma ce mercredi 17 août 2022.